Binomo Demo - Get Your Free Demo Account Now
Proper education and experience level are crucial if you want to succeed in binary options trading. This is why you should train yourself before getting into trading. There are plenty of resources and educational programs online that you can use to educate yourself. However, gathering experience by trading is not that easy because everyone does not have the money to risk in real-money trading just to test strategies.
Even with the funds, it is not wise because you can end up losing all your money without proper knowledge. This is why demo accounts are important. In a demo account, you can trade with virtual money, which helps you test your strategies without putting your money at risk. To explore the risk-free test trading process, you can open a demo account with the top broker Binomo.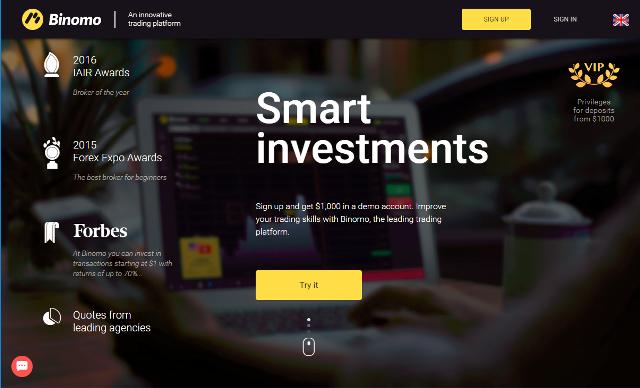 Binomo Demo Overview:
Free Binomo Demo
Available on ALL Devices
No deposit required
Tournaments available
Note: Your capital is at risk
About Binomo
Binomo is a client-oriented company that aims to create a world-class trading platform to offer the highest quality brokerage services and support. At the same time, it provides clients with analytical services for client trading and professional level tutorials. The trading platform has a wide range of financial assets to trade and it is convenient for both the novice and the experienced trader. The best part of Bimono is that apart from three real accounts, it offers a demo account to traders.
How to register for the Bimono Demo
To register for the Bimono demo, you can visit the "Account types" page under the "Information" section after visiting the official website of Bimono. You can see the four types of accounts there. The demo account is written as "Free" that does not require a deposit. You can click on the "Sign up" option.
After that, the "Create account" page will open. You can create an account with your Google account or Facebook account here or simply open it by providing your email id and password. Then, choose your currency from the given options and click on the "Create account" option.
Advantages Of The Free Demo Account
After completing the registration, you can access the trading terminal of the company. You can also test and use some tools and functionality on the trading platform without the requirement of using real money. After opening the platform, the interactive step-by-step instructions are displayed on the first page. Here, you can learn how to use the platform and the procedures regarding the binary options contract. The demo accounted is credited with a $1000 fund and you can test trades and gain experience using this virtual money.
The trading terminal tools and functions available on this trading platform are the same ones that are used in live trading, so, the experience is realistic and practical. When you have used all the funds, you can top-up the fund again. The demo account offers an unlimited number of top-ups to the clients. In this demo account, you can trade 23 assets and also participate in tournaments.
Bimono Trading Demo – This Is What You Can't Do
The demo account is free and does not use real money. So, obviously, there are some limitations. These are what you cannot do with the demo account:
Withdrawing money
Depositing bonuses
Benefitting from profitability
Getting cashback
Having insurance
Enjoying happy hour
Trading with a personal manager
Winning prizes
Conclusion
If you are a beginner in trading, then a demo account is something that you must consider having before getting into real-life trading. You must remember that trading is full of risks and you can lose all your capital at any moment. To win trades, you have to know about the trading strategies in-depth so you can determine which strategy is best for any specific market condition. Bimono offers a great demo account with various benefits and you should take advantage of it to learn trading better.
Frequently Asked Questions (FAQ)
1. Where is the Bimono demo login?
You can log in to the Bimono demo on the official website. You just have to click on the "Try It" or "Sign in" option on the homepage. If you do not have an account, then you will have to register to it before logging in. You can register your demo account on the "Account Types" page.
Note: Your capital is at risk