Roboforex Broker Review 2023 - Bonus, Demo & more
Founded in 2009, RoboForex is an award-winning online brokerage service, offering users the opportunity to trade over 9400 trading instruments spanning across multiple asset classes such as cryptocurrencies, stocks, indices, metals, ETFs, CFDs, energies and forex. They offer the popular MetaTrader platform, along with the professional "cTrader" platform, and their exclusive proprietary "R Trader" platform. All of these are available on desktop, mobile, and web versions. Intending to offer the best trading conditions by implementing the latest innovative technologies, RoboForex offers its users numerous trading tools, market analysis, educational resources, promotions, and trading signals.
Since its inception, the platform has been expanding rapidly, having received over 20 awards and titles, in the process. Some of these accolades include the Best Forex Broker for 2015 (Mena 15th forex show), Best ECN Broker 2016 (IAFT Awards), Best Investment products (London Forex Show), Best Crypto Broker 2018 (Manchester Investor Show) and the Safest Broker 2018 (London Investor Show), among many others.
---
Overview:
Minimum Deposit: 10$
Maximum Leverage: 1:2000
Tradable Assets: Cryptocurrencies, Stocks, Shares, Indices, Metals, Energies, ETFs, CFDs, Forex
Regulated by: International Financial Services Commission
Demo Account: Yes
Note: Your capital is at risk
---
RoboForex License & Regulation
RoboForex Ltd is part of the RoboMarkets/RoboForex Group and is headquartered in Belize. It is thus regulated by the IFSC or International Financial Services Commission in Belize. The IFSC follows international anti-money laundering policies and is responsible for regulating the financial market and enforcing regulations to protect investors. This ensures that companies under its regulations operate in a responsible and transparent manner.
The Financial Commission, which is an international organization, aimed at resolving disputes between its members and their clients through settlements, has added RoboForex Ltd as an "A" category member. RoboForex is also a participant in the Financial Commission Compensation Fund, which provides eligible traders an insurance cover of up to €20000.
For achieving more transparency, RoboForex has worked with Verify My Trade, a service that provides quality auditing reviews of order execution of different platforms, since 2018.
Registration
The registration process at RoboForex is very streamlined and user-friendly. To get started, users can click on the "Open an account" tab found on the upper right-hand corner of the official website. Users are required to fill in a short online registration form to get access to the members' area. They are also required to upload the relevant documents for ID verification as per KYC rules, once they apply for a trading account. The documents are required as proof of identification and can be anything from a user's passport, driver's license, or a proof of address such as a user's utility bill.
Upon verification of the documents, users can fund their trading accounts and begin their trading journey with RoboForex.
RoboForex Account Types
To cater to different trader requirements and preferences, RoboForex offers 6 types of trading accounts. These accounts vary in terms of commissions and spreads, with some offering marked up variable spreads with no commission charge, while others offer lower variable spreads with a commission charge. In addition to this, swap-free Islamic accounts are also available, which are in full compliance with Sharia Law. The different account types are discussed in brief below.
Pro Standard Account: The Pro-Standard Account charges no commission fee and offers variable spreads from 1.3 pips onwards. The maximum allowed leverage is 1:2000.
ECN-Pro Account: The ECN-Pro Account charges a $20 commission fee per one million in traded volume. It offers variable spreads from 0 pips with a maximum allowed leverage of 1:500
Prime Account: The Prime Account charges a commission of $15 per one million in traded volume. It offers variable spreads from 0 pips with a maximum allowed leverage of 1:300.
R Trader Account: The R Trader account provides access to over 12000 tradable instruments. It offers variable spreads from $0.01 pips and a minimum commission fee of $1.5. The maximum allowed leverage is 1:200.
Pro-Cent Account: The main difference between a pro-standard account and a pro-cent account is that the latter uses cents instead of dollars. It offers variable spreads from 1.3 pips and charges no commission. It offers maximum leverage of 1:2000.
Trading Conditions
Minimum Deposit
The minimum deposit requirements for the different accounts are stated below.
Pro- Standard Account - $10
ECN-Pro Account - $10
Prime Account - $10
Pro-Cent Account - $10
R Trader Account - $100
Minimum and maximum Investments (order size)
Roboforex has different minimum and maximum order size requirements depending on the types of accounts chosen. These are stated in brief below.
Pro-Standard Account: The minimum and maximum order sizes are 0.01 lots and 100 lots, respectively.
ECN-Pro Account: ECN-Pro accounts have a minimum order size of 0.01 lots and a maximum order size of 50 lots.
Prime Account: The minimum and maximum order size offered by Prime Accounts are 0.01 lots and 50 lots respectively.
Pro-Cent Account: Pro-Cent accounts have a minimum order size of 0.1 lots and a maximum order size of 500 lots
R Trader Account: The minimum and maximum order volumes for R Trader Accounts are 1 stock and 2000 stocks respectively.
Instruments
RoboForex offers the largest selection of trading instruments offered by a broker. It offers over 9400 trading instruments spanning across Forex, cryptocurrencies, commodities, stocks, indices, shares, metals, energies CFDs and ETFs from multiple markets.
RoboForex Forex/CFD Trading: RoboForex offers an impressive collection of currency pairs, consisting of more than 40 major, minor as well as exotic pairs. These include EUR/USD, GBP/USD, USD/CHF, USD/JPY, USD/CAD, AUD/USD, NZD/USD, EUR/USD, EUR/CHF, EUR/GBP, EUR/JPY, EUR/CAD, GBP/CHF, GBP/JPY, AUD/JPY, AUD/NZD, AUD/CAD, CAD/CHF, CAD/JPY, USD/ZAR, CHF/JPY, EUR/NZD, GBP/AUD, GBP/CAD, USD/MXN, AUD/CHF, EUR/PLN, EUR/TRY, GBP/NZD, NZD/CAD, NZD/CHF, NZD/JPY, USD/PLN, USD/TRY, USD/RUB and USD/CNH. The maximum leverage allowed is 1:1000. Spreads start from 0 pips and it has fast execution speeds of 0.2 seconds.
RoboForex Cryptocurrency Trading: The increasing popularity of the cryptocurrency trading market worldwide has forced many brokers including RoboForex to offer cryptocurrency trading. With RoboForex, users can trade cryptocurrency CFDs of the most popular tokens/coins available in the market. It offers more than 26 major cryptocurrencies including Bitcoin (BTC), Bitcoin Cash (BCH), Dash (DASH), EOS(EOS), Litecoin (LTC), Ethereum (ETH) and Ripple (XRP). They are available on a 24/7 basis with a maximum leverage of 1:50.
Apart from CFDs, RoboForex also provides crypto-indexes for users to access the global cryptocurrency market. These include "Crypto.ALT" and "Crypto.TOP". When investing in crypto-indexes, users are investing in a class of cryptocurrencies and their markets, rather than any singular or individual token or coin.
RoboForex Stocks: RoboForex offers stock CFD trading on German, Swiss, and American stocks. Users have access to a multitude of the biggest stocks in the world, including Google, Tesla, Apple, Amazon, Facebook, and others. RoboForex provides real-time stock exchange charts, online quotes, and a maximum leverage of 1:20.
RoboForex ETFs: Users have access to more than 1000 ETFS or Exchange Traded Funds in RoboForex, with spreads starting from 0 pips. Examples include UUP (DB US Dollar Index Bullish Power shares), USMV (USA Min Volatility MSCI Ishares) and SPY (SPDR S&P 500 ETF).
RoboForex Indices: RoboForex provides popular indices such as TSX, SPX and NASDAQ. Spreads start from 0 pips and has execution speeds of 0.1 seconds or more.
RoboForex Metals: Users have access to trading Gold and Silver (XAU/USD and XAG/USD respectively). In Addition to that, they can also trade ETFs on palladium, platinum, silver and gold. It has fast execution speeds ranging upwards from 0.1 seconds, with low spreads starting from 0 pips.
RoboForex Soft Commodities: RoboForex offers ETFS on more than 100 soft commodities including on coffee, cocoa, corn, sugar, wheat, soybean and fruit. Users can use a leverage of 1:20.
RoboForex Energies: Roboforex also offers both CFDs and ETFs on energy commodities. These include natural gas, ethanol and oil (WTI,Brent). They offer leverage upto 1:100 with spreads starting from 0 pips.
RoboForex Trading Platform review
Because different traders have different needs and preferences, RoboForex provides a flexible range of platforms for users of all classes. IT offers both the MetaTrader 4 and 5 trading platforms in desktop (Windows/MAC), mobile (iPhone, iPad, Android, Tablet) and web versions.
They also offer 2 platforms for providing and copying signals, the CopyFX and the RAMM platforms. For users who require direct STP access to markets, RoboForex also provides a cTrader platform for professional traders.
In addition to this, RoboForex has 3 in house platforms, R WebTrader, R Mobile Trader and R Trader.
RoboForex MetaTrader 5
MetaTrader 5 is the most recent addition to the MetaTrader family. It has a similar interface when compared with its predecessor, offering some additional tools and features. This includes 6 types of pending orders, four types of order executions, multiple timeframes and technical indicators, a multicurrency strategy tester etc. The MetaTrader market has more than 1500 Expert Advisors as well as technical indicators for users to choose from. It also possesses advanced hedging capabilities and flexible netting.
MetaTrader 5 is also available as a mobile app for both Android and iOS devices, as well as a web platform, which allows users to access the platform through the most used browsers in existence.
RoboForex MetaTrader 4
MetaTrader 4 is the predecessor of MetaTrader 5 and is still regarded as one of the most popular platforms used by novice and experienced traders worldwide. With 3 order execution types, more than 50 integrated technical indicators, 9 chart timeframes, automated trading capabilities, a strategy tester and a bunch of other useful features, MetaTrader 4 is unparalleled.
MetaTrader also comes with a MetaTrader community, a place where users can share templates, indicators, automated systems and ideas amongst each other. MetaTrader 4 has a mobile app for both android and iOS devices, as well as a web platform that can be accessed from the most popular web browsers across operating systems.
RTrader
R Trader is RoboForex's exclusive platform for multi-asset trading on financial charts, equipped with advanced technical analysis tools. It gives users access to over 9400 trading instruments along with all the required features an experienced trader needs. It provides a convenient trading platform for users which can also be fully customised.
Some of the important features of RTrader include:
Level 2 market depth
Multiple windows
Unique watch lists
Multiple chart layouts
Trading directly from charts,
Customizable viewing methods
Technical indicators
One click trading
Market news
RTrader also comes with its own automated strategy builder with historical data stretching as far back as to 1970. Users are not required to bear any additional costs for this platform and there are no minimum volume requirements present. An experienced team of support staff is available for users, on a 24/7 basis.
R WebTrader
The R WebTrader is a WebApp for RTrader, which supports most modern desktop and web browsers. It has the same degree of control and features as the desktop version. It is a handy application for users wishing to conduct trading on the go. It does not require any additional downloads or updates.
R Mobile Trader
The R Mobile Trader is their mobile app available for both iOS and Android devices. It is ideal for users who want to trade on the go directly from their mobile devices. It provides the same capabilities and features as the web app and is available in both Google's Play Store as well as Apple' App Store.
cTrader
The cTrader platform is also offered by the RoboForex team, meant especially for professional traders. It provides them with direct STP access to global markets and is often the choice for experienced traders with rare order type requirements. It also offers better execution speeds as well as level II pricing.
The cTrader platform possesses over 50 technical indicators, 14 timeframes, 9 types of advanced interactive charts and a bunch of other useful tools. Users can also look to create their own trading indicators as well as robots in the C# programming language, via cTrader Automate.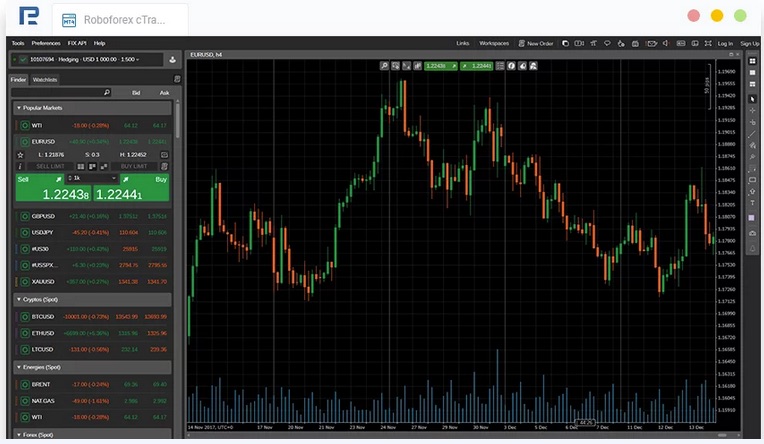 cTrader Web
The web version of the cTrader platform is compatible with most modern browsers, without the need for downloading any separate application. It possesses almost all of the same features present in the desktop app, providing an intuitive and flexible web interface.
cTrader Mobile
The cTrader mobile app has all the features the desktop version possesses. Users can set notifications within the app and conveniently manage their account from the convenience of their own mobile devices. It is available for download for both Android and iOS devices.
RoboForex CopyFX Platform – Social Trading with RoboForex
RoboForex provides users with the CopyFX platform. It allows traders within RoboForex to offer strategies for others to copy, or to copy the transactions of other traders. Users can specify conditions from within the RoboForex Members Area and create subscriptions. It should be noted however, that the previous results and performance records from traders by no means should be considered as a guarantee of future performance.
Note: Your capital is at risk
RoboForex RAMM Platform
The RAMM Platform, provided by RoboForex is a platform allowing users to invest in other trading strategies with proportional profit distribution and increased control over risks. It provides an intuitive user interface allowing users to either provide their own strategies or to subscribe to other strategies, whichever they wish. Users can also choose the amount they wish to invest and can add or remove strategies at any time.
Users should be aware that the previous results and performance of a trading strategy might not guarantee the same future performance.
RoboForex Trading Tools
In addition to the different platforms, RoboForex also provides a multitude of useful, independent trading tools which are discussed in brief below.
RoboForex Analytics Center: The RoboForex Analytics Center is a free trading tool for all RoboForex users, providing all analytics under one comprehensive app. Users can access it through their browser or can download it directly on their iOS or Android devices.
It supports a total of 13 international languages. Users get access to up-to-date information, which they can use to analyse financial markets. Users can access it independently through the trading terminal. It consists of the following features:
Calendar: This displays updated fundamental data and indicators. It includes the latest market news, bank interest rates, worldwide economic indicators, trading sessions, public holiday dates, etc.
Tools: Under the tools section, the analytics center provides pivot level calculations, historical volatility chart, Fibonnacci retracements, etc.
Signals: It displays signals in a table format. It shows data available on 7 different timeframes.
Chat: This is chat section where users can read questions and answers from other users as well as ask questions of their own.
Video: Provides weekly video forecasts for popular trading instruments.
Education: This section provides ready-made strategies for different trading styles.
RTrader Strategy Builder: The RTrader strategy builder tool allows users to create their own automated trading systems, without possessing any complex coding knowledge. With a simple to use "point and click" interface, users can design, deploy and back-test their own automated trading systems, using their own trading strategies.
To ensure minimal execution delays, the automated strategies are saved and run from the server. There is no VPS required, as the strategy builder hosts all the strategies on a secure cloud server. Users also have some pre-designed templates which they can use to familiarise themselves with the whole system.
Virtual Private Server (VPS): A VPS or Virtual Private Server allows a user to remotely run their trading platform on a 24/7 basis without the need for their computer device to turn on. It is often used for users who require minimal downtime but have unreliable internet connections. RoboForex offers a free VPS to eligible clients. All they need is to maintain an account balance of at least $300 and produce a monthly trading volume of at least 4 standard lots, to be eligible.
Deposits and Withdrawals
RoboForex offers over 20 payment systems to choose from when depositing or withdrawing funds. There is no commission present for depositing or withdrawing. RoboForex can also compensate commissions for users withdrawing twice a month.
Depositing options include credit cards, bank wire transfers and online payment systems (examples, Neteller and Skril). However, the availability of these methods depends on the country the user is operating in.
Requests for withdrawals are typically processed within the same working day or the next day. The withdrawal time can vary between payment providers and the methods chosen. Bank transfers usually require a few business days to clear.
For extra security, all RoboForex accounts have a two-step authentication system built-in. This helps protect the user's personal information and funds from any unauthorised access. Trading Accounts can be opened in currencies such as EUR, CNY, USD, BTC, ETH, and Gold.
RoboForex Spreads and fees
The minimum spreads for the different types of accounts are mentioned below:
ECN- Pro Account: 0 pips
Prime Account: 0 pips
Pro-Standard Account: 1.3 pips
Pro-Cent Account: 1.3 pips
RTrader Account: $0.01 pips
The commission/ fees charged by the different types of accounts are provided below:
Pro-Standard Account: No Commission fee
ECN-Pro Account: $20 commission fee per 1 million in traded volume
Prime Account: $15 commission fee per 1 million in traded volume
Pro-Cent Account: No commission fee
RTrader: Minimum $1.5 commission fee
RoboForex Demo Account
RoboForex provides Demo Accounts which users can use to test the platform. A demo account provides a nice opportunity for beginners or novice traders to test out the market, trade in a real-time trading environment and hone their skills. Users can simply click on the "try free demo account" tab on the official login page. Registering for a demo account involves a two-step process and requires the user to fill in the necessary details.
Note: Your capital is at risk
Education
RoboForex has provided users with a host of different educational resources, suited for different skill levels of traders. These include educational videos, Trading tips, Analysis and Forecasts, RoboForex Blog and a FAQ section.
RoboForex Bonus and Special Offers
Is there a RoboForex no deposit bonus or Welcome Bonus? RoboForex offers a Welcome no deposit bonus of 30 USD for users starting live forex trading on the platform. (T&C Applied). All a user must do is make a $10 deposit, open an account and pass the verification to be eligible for this bonus (T&C Applied). This offer ends on Dec 31, 2020. This bonus only works with Pro-Standard and Pro-Cent Accounts.
RoboForex Profit Share Bonus: This bonus allows users the opportunity to receive up to 60% of the deposited sum on all RoboForex standard and cent accounts. (T&C Applied). The eligibility criteria for this bonus is the same as above.
RoboForex Classic Bonus: The Classic bonus allows users to receive a bonus of up to 120% for their first deposit onwards (T&C Applied) The eligibility criteria for this bonus is the same as for the "no deposit bonus".
Note: Your capital is at risk
Customer Service and Support
RoboForex has an efficient and responsive customer service team that can reach out to users via email, online chat or phone, on a 24/7 basis. Additionally, they provide a call back service where users can leave their numbers to be contacted later by the customer support staff. It supports multiple languages including English, Chinese, Malay, etc.
Conclusion: Should I Trade with RoboForex?
Apart from the multiple accolades this trading platform has won, RoboForex provides a comprehensive, versatile, and efficient platform for users to access a vast array of trading instruments. With strict regulatory compliance and security protocols in place, it is worth investing in.
RoboForex Awards
Q&A- RoboForex Questions
1. Is RoboForex a scam or legitimate?
RoboForex is a multi-award winning trading platform, which follows strict guidelines under the regulatory authority of the IFSC.
2. Where is the RoboForex login to the member area?
Users can register to the members area by visiting the "Members Area" page and clicking on register. They can log in to the members area by clicking the "sign-in" option on the top right-hand side of the official website.
3. Is RoboForex accepting PayPal?
Yes, RoboForex Allows users to use PayPal, one of the largest payment systems of the world when depositing in a trading account on the platform.
4. How much is the RoboForex leverage?
The highest leverage allowed on the platform for trading is 1:2000
5. How to open an account with RoboForex?
Users can click on the "Open an account" tab found on the upper right-hand corner of the official website to get started.
6. RoboForex APK: Is it available?
Unfortunately, there are no APKs available for RoboForex at present, but official Android Mobile Apps.
Note: Your capital is at risk