Plus500 Crypto Trading - is Plus500 a Reliable Crypto-platform?
When it comes to cryptocurrency platforms, Plus500AU Ltd can be considered one of the most familiar names regarding this matter. It is a Australian based website that specialises in CFD (contracts for difference) on Forex and cryptocurrency trading. Here, you would find a comprehensive review of this platform covering its various aspects.
CFDs are a leveraged product and can result in the loss of your entire balance. Trading CFDs may not be suitable for you. Please consider whether you fall within Plus500's Target Market Determination available in their Terms and Agreements. Please ensure you fully understand the risks involved.
Disclaimer: Cryptocurrency trading is not available in UK
---
Overview:
Available Cryptocurrencies: Bitcoin, Litecoin, Ethereum, Ripple, Bitcoin Cash, IOTA
Minimum Deposit: $100
Maximum Leverage: 1:30 (T&C Apply)
Regulated by: ASIC, FMA, FSA, and FSCA.
Demo Account: Yes
Note: CFD Service. Your capital is at risk
---
Introduction
Cryptocurrency has become the new sensation in the world of trading and investment. Trading with such ingenious currencies first initiated almost a decade ago in 2009, when a group of Japanese programmers named Satoshi Nakamoto introduced Bitcoin to the traders across the globe. Since, then a considerable number of other digital currencies and forks of Bitcoin have made their way to this market. Now, the approximate number of such currencies is nearly eighteen hundred with myriads of ICOs (Initial Coin Offerings) yet to be tokenised.
So, it is quite evident that trading various cryptocurrencies has become a very popular practice among traders residing in countries like South Africa, United States, United Kingdom, Lithuania, and many more. Under such circumstances, choosing an appropriate online platform for your cryptocurrency trading is of the utmost importance. On the other hand, if you're stuck with the wrong platform that is not compatible with your trading style, the constant volatility of cryptocurrency market might affect your business severely and cause a significant loss.
When it comes to cryptocurrency platforms, Plus500 can be considered one of the most familiar names regarding this matter. It is a UK based website that specialises in CFD (contracts for difference), Forex, and cryptocurrency trading. Here, you would find a comprehensive review of this platform covering its various aspects.
Plus500 at a Glance
The Plus500 CFD cryptocurrency trading platform is offered by Plus500AU Ltd., a subsidiary of this platform introduced in 2008. Initially the key focus was on CFD trading which gradually shifted towards digital currencies in the coming years. The platform is currently headquartered in Israel and is listed on the Main Market of the London Stock Exchange.
Available Cryptocurrencies
The available cryptocurrencies on this platform include Bitcoin (BTC), Ethereum (ETH), Litecoin (LTC), Bitcoin Cash (BCH), Ripple (XRP), IOTA (MIOTA) and others. All of these cryptocurrencies are available 24/7 for traders around the world except for one hour on Sundays.
Available Cryptocurrencies on Plus500 (Illustrative Prices only)
Minimum Deposit and Leverage
The fee structure on this platform is quite reasonable as Plus500 does not charge any commission for cryptocurrency trading. One of the main features of this trading platform is that Plus500 seeks to acquire considerable benefits from the spread of its available cryptocurrency assets, especially from Bitcoin. The platform also charges an inactivity fee involving a payment up to $10. The maximum leverage is up to 1:30. (T&C Apply)
Regulation
Plus500AU Pty Ltd (ACN 153301681) is licensed by: ASIC in Australia (AFSL #417727), FMA in New Zealand (FSP #486026) and for South African traders: Authorised Financial Service Provider in South Africa, FSP #47546.
Trading
Trading onPlus500 is reasonably straightforward and uncomplicated. It offers a user-friendly demo account. You can easily register to this demo account which is available for an unlimited period of time. The registration is absolutely free and the investor is given the leeway to switch between the demo mode and the actual trading mode quite easily. The demo account offers various instruments and tools that can be used to the benefit of the trader before venturing in the actual cryptocurrency trading.
Key Features Offered by Plus500
The key features of this platform include:
Efficient Software:
Plus500 uses a proprietary software program that is capable of providing the users with a user-friendly as well as intuitive interface. This interface allows the traders to swap between the demo account and the real cryptocurrency account readily offering them the opportunity to rectify their moves while trading a certain digital currency whenever necessary. The software also allows the traders to be familiar with live quotes of financial assets along with recent charts and trends that indicate the positions of these cryptocurrencies in terms of market cap and individual coin price. The software is supported by desktops, and iOS systems.
Impregnable Security:
As mentioned earlier, this cryptocurrency platform is regulated by several authorities. This regulation accounts for the transparency and security offered by Plus500. The platform segregates all of the Clients' funds and does not use client money for hedging purposes. Plus500 also offers negative balance protection along with a secured socket layer (SSL).
Vast Jurisdiction:
The website is available in a large number of countries of Asia, Africa, Europe, and Oceania. Everywhere it is regulated by different authoritative bodies such as the Financial Service Provider in South Africa. The website also comes with 32 different languages for the convenience of their clients. This vast jurisdiction is one of the main reasons behind the popularity of this website.
Convenient Customer Service:
The customer service of Plus500 is available for 24x7 to their numerous traders residing in various corners of the world. Also, the FAQ section of this website can answer most of the queries of their clients. The support is available in various languages for the convenience of the traders who are not well versed in English.
Account Types
There are two types of accounts available on this website. The demo account is for the novice traders and the actual cryptocurrency account for experienced traders. The minimum deposit to get involved in real cryptocurrency trading on this platform is a hundred US Dollars. The website offers the freedom to switch between either of them. The registration process is fairly easy as all it requires is a valid email address and an appropriate password. However, the trader must be from the regulated jurisdiction of Plus500 and in case s/he wants to move straight to real money accounts, a thorough verification is required. The minimum amount required to start trading in a real account is $100.
Demo Account
The demo account comes with several useful tools for traders and makes them conversant with certain aspects of cryptocurrency trading. You can sign up for free in this demo account and once that happens, the account would perpetually available to you. The trading charts and trends available in the demo account can be helpful while you're involved in real trading and protect you from potential losses.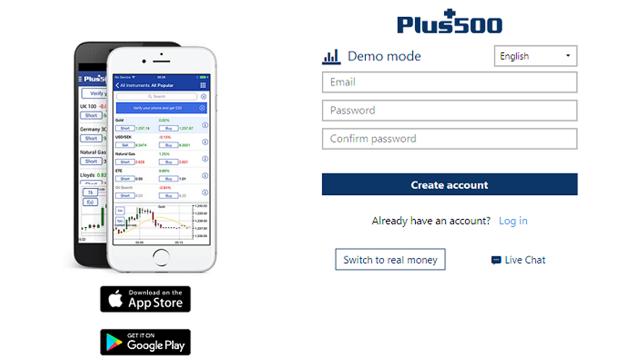 Plus500 Account Demo Mode
Trading Platform
The Plus500 website uses a proprietary trading platform that can be used in your favourite webbrowser or easily downloaded for desktops and iOS operating systems. The platform comes with several tools such as the economic calendar, risk management tools, and alerts. It is an ingenious trading platform that can be used in your favourite webbrowser and iOS operating systems.
Education
There are no education tools available on this website. However, the tools and instruments available on this website offer various educational resources that can be very effective for gathering experience and familiarise with the pitfalls and benefits of cryptocurrency trading.
Support
This website offers an incessant support for 24 hours a day for 7 days a week. In the constantly available "Contact Us" page of Plus500, you can cite your queries providing your name and email id. Also, the customer service is available in 32 different languages on this website so that the clients can select a certain medium of communication to their convenience.
Deposits and Withdrawals Available for Cryptocurrency Assets
As mentioned earlier, the available assets for cryptocurrency trading on Plus500 include six cryptocurrencies namely Bitcoin, Ethereum, Litecoin, Ripple, Bitcoin cash and IOTA. Among all of these currencies, Plus500 gives it utmost focus for Bitcoin trading as it is still the most popular cryptocurrency in the world. For Crypto trading, this platform offers a maximum leverage of 1:30 (T&C Apply). This means for every US Dollar or British Pound you invest on this is worth 300 times more. As far as the spread is concerned, Plus500 offers a variable/dynamic spread while trading Bitcoin.
Trading Conditions
After the client goes through the meticulous verification process, s/he has to deposit $100 as the minimum amount required for initiating a cryptocurrency trading. However, there is no charge for signing up on the demo account which can be switched with the real one at any time.
Final Thoughts
Plus500 is one of the very few trading platforms as well as websites that are regulated by different regulatory bodies in different countries and cannot be used at all by the traders outside its jurisdiction. Ergo, it can be easily inferred that a trader shouldn't worry about the security issues on this platform. Also, the platform's useful demo account, various convenient features, unimpeachable customer service, and several other features can satisfy any client's requirements.As South Africa is considered one of the leading nations in dealing with cryptocurrencies and Plus500 offers its best assets to the traders of this country, this cryptocurrency website can be a very lucrative option for the South African citizens.
Note: CFD Service. Your capital is at risk