Binomo Investment - Please Read Before Invest in Binomo
What Is Binomo Investment About?
Binomo is a trading platform that allows traders to trade binary options, forex, CFDs, and cryptocurrency. The brokerage firm has clients from 133 countries. By opening an account with Binomo and investing the minimum deposit, you can start your trading journey of binary options. Being regulated by IFC (International Financial Commission) makes it a safe broker for your trading investment.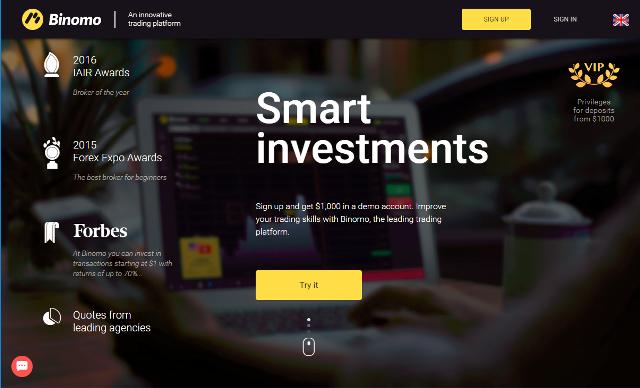 Overview:
Minimum Deposit: $10
Minimum Trade Amount: $1
Maximum Return: Up to 85%
Tradable Assets: 80
Trading Platform: Proprietary Trading Software
Regulated by: CROFR
Demo Account: Yes
Note: Your capital is at risk
How Does a Binomo Investment Work?
To trade, you need to invest an amount of money to your trading account. So, the first thing you need to do is open an account on Binomo. Apart from the free demo account, there are three accounts you may choose from, such as Standard, Gold, and VIP. You can choose from the various options of deposit methods, such as Credit Cards (MasterCard and Visa), Bitcoin, Litecoin, Neteller, and Indian Banks. After funding the accounts, you can start trading. When you win profits, you can withdraw the fund as well. Based on the account you choose, withdrawals may take from four hours to three days.
Binomo Investment Platform
To activate an account for trading, you need to deposit with minimum deposit. This amount helps you to cover the expenses associated with trades. You must also know why it is best to open an account with Binomo. It is because Binomo offers more than you deposit that you can use for trading. Apart from trading assets independently, traders can also take part in tournaments running on the platform. With a predefined duration, these tournaments charge a participation fee. If you win, then you receive a prize fund. For example, right now, these tournaments are running on Binomo:
First Round
Luck
Speed
Daily Free (No participation fee)
The upcoming tournaments are:
Heat
Fortnight
Trophy
Three Days Race
Golden Rush
Binomo Minimum Investment
The demo account on Binomo is free; it does not require a minimum deposit. The rest of the accounts have different minimum deposit requirements, such as:
Standard account: $10
Gold account: $500
VIP account: $1000
Advantages and disadvantages of Binomo investment
Investing in trading with Binomo has both pros and cons, such as:
| | |
| --- | --- |
| Pros | Cons |
| Non-stop trading | Limited number of assets |
| Tournaments with prize funds | Not supported in Europe and the USA |
| Maximum 90% profit potentiality | Limited trade types |
| $10 minimum deposit | No social trading |
| $1 minimum trade | No signals |
| Robust demo account | |
| Weekend trades available | |
| Responsive customer support | |
Risks and Chances Of Binary Options Trading
Binary options are financial options with two payoff options. It is either a fixed amount or nothing. This trading option has both its advantages and risks. The chances include:
High ROI Potentiality: Binary options trading has higher risk nature. As a result, the return on investment is also higher. You can expect average returns of 60%-90% typically. While a forex trader can only expect a 10% return, binary options traders definitely have the upper hand.
Fixed risk: Binary option does not have the risk of leverage costing the trader more than the amount he/she risked on the trade. Traders know from the start exactly how much they are risking and how much profit or loss they will make if they win or lose the trade.
Easy to trade: Binary options trading platform have started making themselves convenient for traders. You do not need to worry about things like leverage, stop losses, and magnitude of price movement. The platforms are very user-friendly with useful features like informative video tutorials, demo accounts, and live chat.
Variety in assets: Binary options trading offers the benefit of trading with various types of assets, which helps you to control the amount of risk you want to take within a given time. Moreover, some stocks are generally very expensive for most traders. However, in binary options, they are investing not in the stock directly but in a prediction, which gives them access to more assets.
Returns even on loss: Binary options produce high payouts but the risks are also higher compared to other investments. To reduce this risk, many brokers offer a small return of the invested money even if you lose which is appealing to beginner traders.
Risks of trading with binary options include:
Market risk: Like other investments, binary options trading is involved with overall market risk. In almost all cases, markets often move in various directions without warning. Although you can predict potential market movements, yet it is impossible to pinpoint the exact direction.
Accurate profit and loss points: The profit and loss points are extremely precise when it comes to binary options. It means that the value can go up to three or four decimal points sometime. Even 0.0001 point can make a huge difference in being on the profit or loss side.
Not liquid: Binary options trading cannot be considered a "Liquid" investment. Hence, the vehicles cannot be exercised at will. You must wait until the expiry date of the options before taking your profits.
About the Binomo Investment Company
Established in 2014, Binomo is a client-oriented trading platform and brokerage firm that is owned by a company named Dolphin Corp. The firm executes more than 30,000,000 trades per week successfully. Currently, Binomo has more than 887,470 daily active traders. The broker is very user-friendly for beginner traders. It offers the highest quality brokerage services and support including analytical services, client support, and professional level tutorials.
Registration
At Binomo, the registration process is easy and streamlined. Users can start by simply clicking on the 'register' button located on the upper right corner of the website. Alternatively, they can click on the 'try' button in the center. Binomo requires users to enter a valid email address that would also act as login credentials, along with a password that should be alphanumeric.
Binomo then provides users with several currency options along with respective financial information. They can accept the terms of their privacy policy and user agreement by outing a checkmark in the appropriate column. After all the above steps are complete, simply "clicking on the open an account for free" button. Users will receive a confirmation mail sent by Binomo support in their official mail address, which they must confirm.
Demo
Binomo provides a demo account to users, equipped with $1000 worth of virtual money. Through demo accounts, novice traders can come to grips with a live trading environment without risking any of their capital. A demo account provides users the ability to access only 18 assets. To start making real transactions, all the user must do is replenish his balance by $10, and they are ready.
Trading Conditions
Binomo provides an efficient, streamlined, and practical trading platform specially focused on Binary Options trading. Users who open a real account have access to more than fifty different assets spanning across several markets. Traders have more of a variety of trading instruments to choose from, compared to many of its competitors. However, Binomo offers only High/Low trading contracts. The Minimum Deposit is $10 only, the Minimum Trade starts at $1.
Some of the assets that are tradable include:
Multiple Currency Pairs including AUD/USD and GBP/USD
Commodities such as Oil and Gold
Popular Stocks such as Disney, Google, and BMW
Cryptocurrencies such as Litecoin and Bitcoin
Indices such as CAC40 and DAX
Commodity pairs such as silver/gold
Binomo does not charge a fee or a commission on traders. It rather makes its income through money gained by a trader losing a trade. The lack of commissions is enticing for traders, especially ones that prefer trading at higher levels.
Binomo offers three types of accounts, namely, Standard Account, Gold Account, and VIP Account. The VIP Account only requires a minimum $1000 deposit to use, which is considerably less than many of its competitors. It also provides a fixed trade profit of up to 90% and bonuses of up to 100% (Conditions applied)
Mobile App
In this age of digital technology, Binomo's mobile app is a high quality mobile reactive platform that provides all the functionalities of the desktop version. It is compatible with both Android and iOS mobile devices. Traders are kept up to date on different promotions, tournaments, and transactions within seconds through push notifications.
The app covers all the essentials, even though users should use the desktop platform for performing a more in-depth analysis. However, the mobile app matches the desktop platform in all other aspects, which is perfect for users who prefer to switch between the two and trade on the go.
Deposits/Withdrawals
The options for depositing and withdrawing funds are carried out through the "Cashier" section available on the Binomo platform. There are many options amongst the payment channels. Some of these give users a bonus of 20 to 70% when they replenish their accounts.
Options include
Qiwi
Yandex.Money
Perfect Money
Neteller
Litecoin
Bitcoin
Traders have to create an equivalent trade turnover with leverage of 35-40 to receive the above bonuses. Depositing $500-$999 gives users the status of Gold which can accelerate the withdrawal of funds.
Education
Beginner or novice traders might find online trading to be a bit complicated at first. Apart from using the demo account, users of Binomo can find extensive free training material and other educational resources on the platform. These cover different trading topics which novice traders can use to build up their practical knowledge about the market. Additionally, they provide a FAQ section as well as different video tutorials covering major trading areas.
Tournaments and Bonuses
There are regular deals and promotions on offer at Binomo. This can either be in the form of a great sign-up promotion or topping up the user's account with additional funding when they deposit. The offers can vary from day to day. There is an offer for beginners, whether they can get access to one on one training and additional support, just by depositing $500.
Service and Support
The Binomo platform has a live chat function embedded into it. Users can access it by clicking on the red message icon at the bottom, available both on the desktop and mobile versions. Languages offered include English, Spanish, Korean, Indonesian, Malay, Portuguese, Romanian, Russian, and many others. Users can also use the contact link given at the bottom of the website, where they can reach Binomo support through email or Skype.
Is Binomo Investment A Scam?
Binomo is a legitimate online trading platform used by millions of traders all around the world. The broker is regulated by the IFC rated a category "A" member by the same. With IFC's regulation, comes protection up to $20,000 in case of disputes. Binomo maintains the highest standards of conduct and business practices after joining the IFC. So, it is safe to say that Binomo is not a scam but it is a safe place to start your trading journey.
Note: Your capital is at risk