Binomo Minimum Deposit - What You Need to Know
If you are new in trading and want to trade with a broker, then there are some things that you need to know about, one of them is the minimum deposit. Whenever you open an account, you need to consider the minimum deposit and the fees associated with it.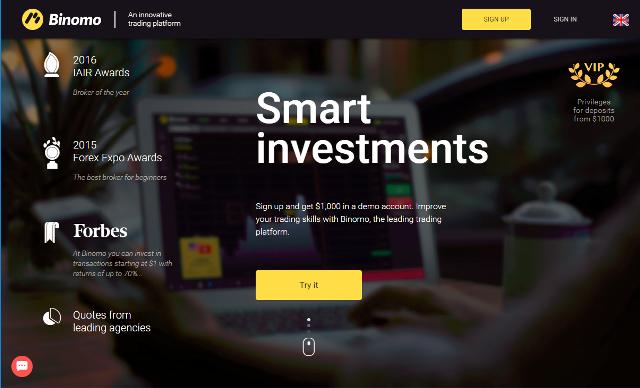 Overview:
Minimum Deposit: $10
Minimum Trade Amount: $1
Maximum Return: Up to 85%
Tradable Assets: 80
Trading Platform: Proprietary Trading Software
Regulated by: CROFR
Demo Account: Yes
Note: Your capital is at risk
What is a Minimum Deposit?
An initial deposit or minimum deposit is the minimum amount you require to open an account with a brokerage firm or any other financial institution. Some accounts require higher minimum deposits due to the premium services they offer, while the mainstream audience is offered lower minimum deposits generally.
When you start trading after opening an account with a broker, you must have sufficient money at all times so you can cover the administrative costs and other expenses associated with the services. Minimum deposits make sure that the revenues generated are enough to cover these. As mentioned earlier, with higher minimum deposits, you get additional features like access to analyst reports, complete data on-time from the exchanges, and reduced trade commissions. These days, however, due to growing competition, brokerage firms have reduced fees and minimum deposits.
Some clients want the cheapest options. They go for firms offering trading accounts with no minimum deposit requirements. Then, some firms offer premium plans that carry a higher management fee in the minimum deposit. With these plans, clients can access to financial planning professional advisers. According to your financial condition and preferences, you can choose your broker with a suitable amount of minimum deposit.
How Much is the Binomo Minimum Deposit?
Binomo offers three types of accounts apart from its demo account. The benefits and features you get with the minimum deposits are explained below:
Demo account: It does not require a minimum deposit. The client is provided with $1000 virtual cash to the account. You can trade 23 assets and participate in tournaments with this account.
Standard account: The minimum deposit for the standard account is $10. You get 41 assets for trading, deposit bonuses up to 100%, withdrawals within 3 days, and profitability up to 85%.
Gold account: To open a gold account on Binomo, you need a minimum deposit of $500. The client can trade 54 assets; withdraw money within 24 hours, and get deposit bonuses up to 150%, profitability up to 90%, and a cashback of 5%.
VIP account: The VIP account requires a minimum deposit of $1000. You can take part in the VIP tournaments with this. 61 assets are available to trade and you can withdraw your money in 4 hours. Deposit bonuses are up to 200%, profitability is up to 90% and 10% of cashback is provided.
| | | | |
| --- | --- | --- | --- |
| Demo Account | Standard Account | Gold Account | Vip Account |
| A chance to test the features of the platform without making any investments. | Access to the frequently traded financial assets | An Access to an extended list of assets | Offered bonuses up to 100% |
| The opportunity to make deposits in virtual currencies in the amount of $1,000, €1,000 or 50,000 rubles for free at any time | The ability to trade by making a deposit of $1 | Expedited withdrawal procedure for profits - up to 24 hours | Assured traded profits up to 87%Assured traded profits up to 87% |
| Access to all educational assets, tools and practice strategies | Top-up without limits | Yield on trades up to 86% | The opportunity to withdraw profits in less than 4 hours |
| Training in trading capital management skills | A broad range of bonuses for both new users and active traders | The increased size of bonus accrual while funding the account | A wide list of financial assets |
| A great start for newcomers | Technical support | Investment insurance bonus instruments | Investment insurance tools |
| | Participation in tournaments | Traders can expect help from advisory services and a personal manager | Analytical support online via skype. |
| | A chance to withdraw profits within 3 working days | Technical support like a number of trading strategies | Exclusive features that are granted to VIP-clients only |
| | | Weekly cashback 5% | Weekly cashback 10% |
| Free | from 10 $ | from 500 $ | from 1000 $ |
Binomo Minimum Deposit Vs Similar Brokers
Unlike some brokers that require at least $20 as the minimum deposit to open an account, Binomo is a broker that is considerate towards beginner traders. So, it is one of the few brokers in the market that offer accounts with lower minimum deposits, like IQ Option and Binary.com, as displayed in the table below:
| | |
| --- | --- |
| Broker | Minimum deposit |
| Binomo | $10 |
| IQ Option | $10 |
| Binary.com | $5 |
Binomo Deposit Fees and Deposit Methods
Binomo offers several payment methods for the convenience of its clients. You can fund your account by using Mastercard SecureCode verified by VISA, Neteller, Bitcoin/Liteccoin, Perfect Money, and Indian Local Banks. You can also use Imps, UPI, NEFT, Paytm, Cash deposit to the bank, RTGS, and Hand in cash.
Binomo does not charge any fee for depositing its account which is the best part of opening an account with this broker. Instead, it offers the benefit of getting more amount than what you deposit to your account. For example, when you are using Mastercard, you get $9000 by depositing $5000. Similarly, $5100 is received by adding $3000, and so on, as displayed in the image below.
It is the same when you deposit with an Indian local bank, as you can see in the image below.
How to send the minimum deposit
To deposit, first, you need to open a trading account with Binomo. To open an account, visit the website and go to the Information Section. Click on the "Account types" option from there. When the page opens, you can see the options of opening Free, Standard, Gold, and VIP accounts. As mentioned earlier, a free or demo account does not require a deposit and it is only for demo trading. If you have gained enough experience, then go for any of the other three accounts and open your account by signing up with your Email or Facebook account. After that, you can add the minimum deposit amount to your account.
Funding your Binomo account is easy and quick. Follow these steps to deposit:
There is a "Cashier" section on the website. Go there and click on the "Add funds" button.
Next, you need to choose a system for account crediting banks.
Now, you can simply enter the amount you want to credit and click on the "Deposit" button.
Contact the verified partner of Binomo at the number indicated and you can complete the operation.
Now, the account is deposited with the fund. You can trade with it now.
If you face any difficulties while depositing your account, you can contact Binomo's support team via email or online chat.
About Binomo
Binomo, a well-known brokerage firm established in 2014, is a client-oriented company that aims to create new possibilities in the market of major trading technologies. To provide the clients with the level of European and American brokerage services, Binomo offers the highest quality brokerage services and support including analytical services, professional level tutorials, and client support.
The broker pays great attention to beginner traders for their professional preparation. Bimono operates all over the world and provides the clients with a transparent collaboration. The broker is regulated under the International Financial Commission which ensures its reliability and protection of funds.
The lesser amount of minimum deposit makes Binimo a preferable option for traders.